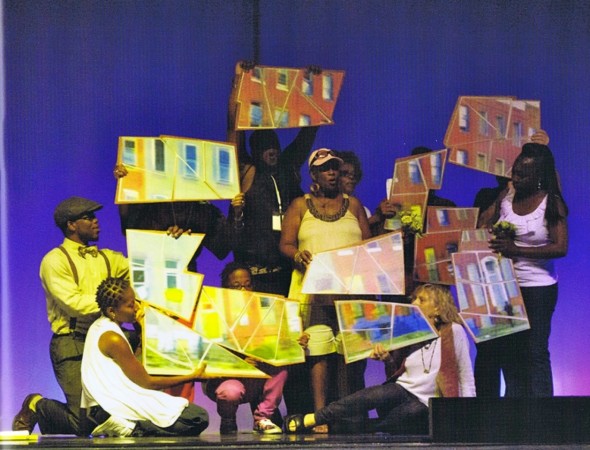 The performances of CONVERSATIONS WITH TIME at the 35th Anniversary of Alternate ROOTS in West Baltimore attempted to present the journey of the project, not as documentation but as a rehearsal in real life. They were very inclusive. They meant to be educational but not a 'how to' guide. They were close to chaos but informative. We were mixing professionalism with 'everything is possible'. We wanted to speak to the multiple audiences which had participated in the workshops or which we had encountered in the development of the project. Not everybody was available for these two days and these films are for them to see, hoping that hey will realize that their input was not forgotten.
Conversations With Time
In the preparation of the public events, there were open dialogues and arguments, with laughter and cries. The two performances, two days apart, one staged indoors at the National Learning Exchange and one at the Hidden Stream site of ROOTS Fest 2011, came out totally different, because of the participants, the venues and their audiences. The performance at Hidden Stream was supported by a quasi-guerilla art installation (including a memorial piece to Ms Eva, the GED teacher who had passed away two weeks before) and activities that lasted all day; our way to promote the potential future of the journey.
The documentation of the performances is in the same spirit as their development. The 20-minute film presents a work in progress, a kind of rehearsals and it intertwines excerpts from both performances. It is a rough documentation, meant to be a common ground to help in the evaluation of – and the hopes for – the challenges that CONVERSATIONS WITH TIME created for the artists, the partners and the communities involved. The CONVERSATIONS WITH TIME performances are a sketch to help us all question our practice. You can view a 20 minute long grainy version at: http://vimeo.com/33117019
And make sure to watch the five minute presentation of the project in action at:
http://www.youtube.com/watch?v=kTiFjSVQLvA or at http://vimeo.com/33623093
You may also want to hear Carolyn Myers, Bon Secours Silver Senior, talking about CONVERSATIONS WITH TIME, a project she followed from the beginning: http://www.youtube.com/watch?v=xe0m6DygsyQ
This project was made possible with funding from Alternate ROOTS and The FORD FOUNDATION through the Community/Artists Partnership Program. Additional funding came from The PUFFIN FOUNDATION and a KICKSTARTER campaign.
The Conversations With Time team was led by Gwylene Gallimard, Theresa Cunningham and Omari Fox, with doris davenport, Domonica Covington, Taye Beasley, James Harris and Jean-Marie Mauclet. Participants included members of Bon Secours Senior program, Bon Secours GED program and Harlem Middle School Student Government.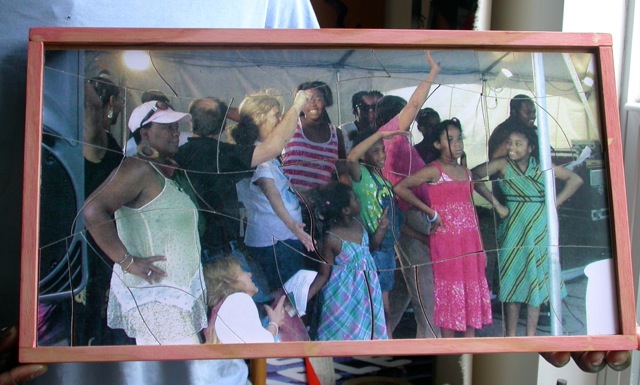 See below excerpts of booklets that helped all of us to communicate and develop a script.